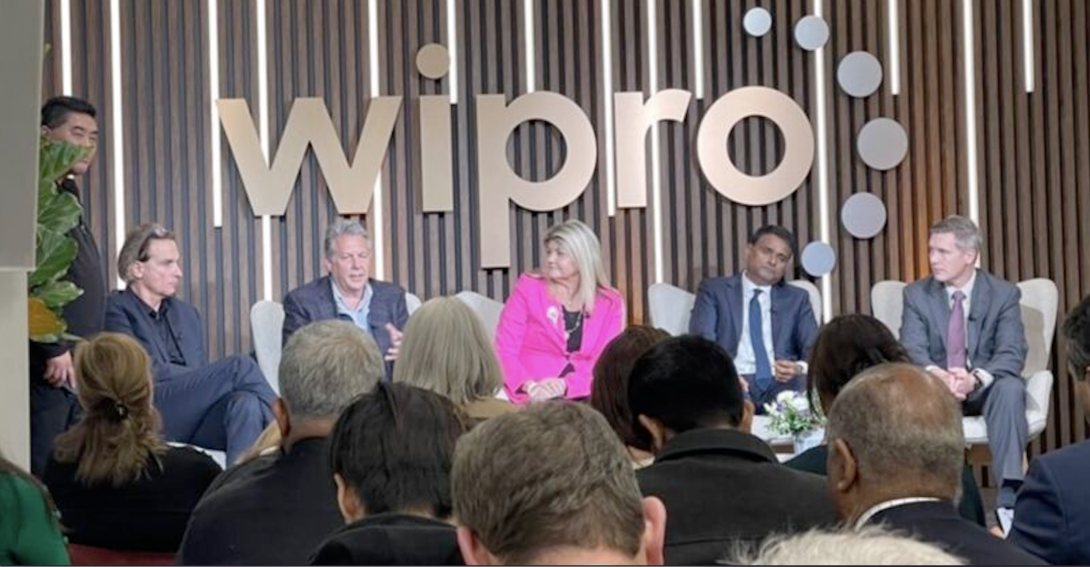 Event Report: Metaverse As A Force For Good, Sustainability
Gain Pragmatic Advice For What's Next In Web3 and the Metaverse Economy
Much hype has been made about the metaverse. However, very few organizations have fully grasped the impact the metaverse will have on experiences, engagement, and even sustainability across the enterprise. From improving inclusion practices, to integrating climate-aware virtual environments and expanding access to opportunities; The metaverse will bring the world closer together. Learn how enterprises and brands bring their stakeholders together, customers, employees, partners, and suppliers around major use cases and contemplated approaches. Subsequently, we will understand why the physical presence and 3D digital presences will emerge as an unifying force for good.
The Wipro hosted panel will bring insights on the future of interfaces, what use cases will gain traction, what standards are needed to move forward, where the metaverse will play a role in sustainability, and how organizations can get started.
Join the esteemed panel moderated by R "Ray" Wang, Chairman of Constellation Research, Inc. with:
Sandy Carter, SVP of Unstoppable Domains
Dirk Lueth, Co-Founder & Co-CEO Upland and Chairman of OMA3 (Open Metaverse Alliance for Web3)
Srini Pallia, CEO for Americas 1 of Wipro
Mike Sutcliff, CEO and coFounder of Mobeus
John Waldron, SVP and Chief Commercial Officer of Honeywell
LOGISTICS

DATE: Tuesday, 17th of January, 2023

TIME: 5:30 PM TO 7:00 PM CET

LOCATION: Wipro Pavilion at Promenade 74

REGISTRATION LINK: Register Here.
The Bottom Line: The Metaverse Moves From Hype To Pragmatic Use Cases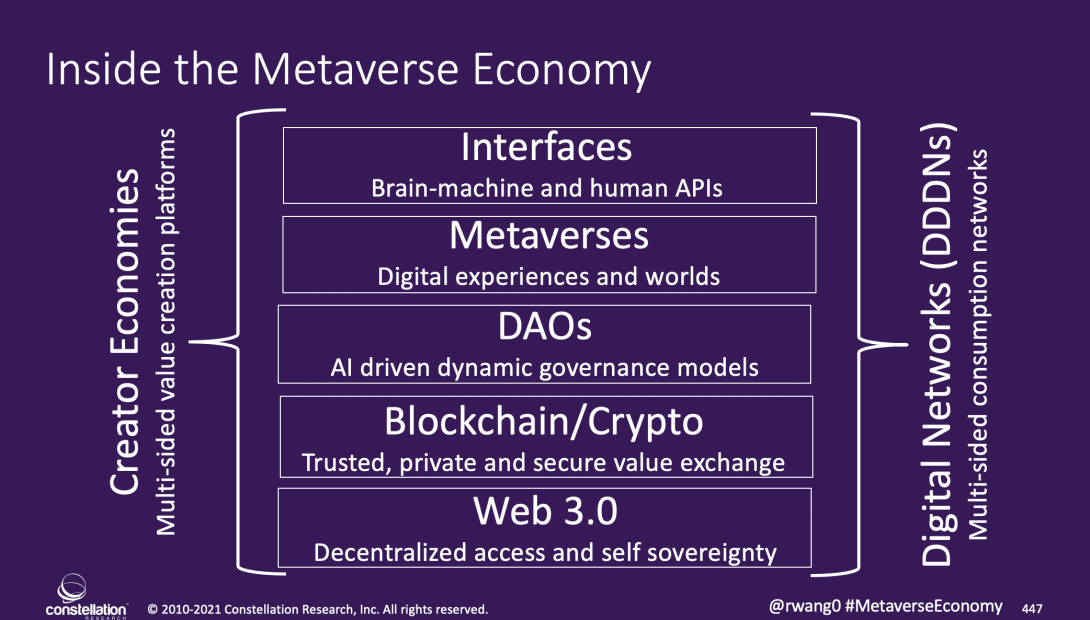 With the metaverse, where we work, how we learn, who we engage with, what we buy, who influences us, and why we exist will be massively transformed. As physical and digital worlds converge, the metaverse economy provides a frameshift from the 2D digital world to a 3D digital world.
Constellation expects the metaverse to be a proxy for humanity's aspirations. In this time in which individuals, organizations, and governments reassess their priorities and technologies to advance what an individual can achieve, a great refactoring of our plans has arrived. The metaverse is an exponential technology that will be used to empower our ambitions. And as with any new exponential technology, the technology may be used for good or for evil.
Hopefully, the principles of Web 3.0 ensure that decentralization returns power back to the individual and the creators of value. During this Great Refactoring, expect the metaverse economy to play a key role throughout the decade in accelerating business models, meeting expectations, and improving the human condition itself.
Your POV
Done with the hype of the metaverse? Ready for a pragmatic approach? What use cases are you pursuing?
Add your comments to the blog or reach me via email: R (at) ConstellationR (dot) com or R (at) SoftwareInsider (dot) org. Please let us know if you need help with your strategy efforts. Here's how we can assist:
Developing your metaverse and digital business strategy
Connecting with other pioneers
Sharing best practices
Vendor selection
Implementation partner selection
Providing contract negotiations and software licensing support
Demystifying software licensing
Reprints can be purchased through Constellation Research, Inc. To request official reprints in PDF format, please contact Sales.
Disclosures
Although we work closely with many mega software vendors, we want you to trust us. For the full disclosure policy,stay tuned for the full client list on the Constellation Research website. * Not responsible for any factual errors or omissions.  However, happy to correct any errors upon email receipt.
Constellation Research recommends that readers consult a stock professional for their investment guidance. Investors should understand the potential conflicts of interest analysts might face. Constellation does not underwrite or own the securities of the companies the analysts cover. Analysts themselves sometimes own stocks in the companies they cover—either directly or indirectly, such as through employee stock-purchase pools in which they and their colleagues participate. As a general matter, investors should not rely solely on an analyst's recommendation when deciding whether to buy, hold, or sell a stock. Instead, they should also do their own research—such as reading the prospectus for new companies or for public companies, the quarterly and annual reports filed with the SEC—to confirm whether a particular investment is appropriate for them in light of their individual financial circumstances.
Copyright © 2001 – 2023 R Wang and Insider Associates, LLC All rights reserved.
Contact the Sales team to purchase this report on a a la carte basis or join the Constellation Executive Network